ABOUT US




In the Beginning There Was Coffee




Arthur's owner, Brian Fast, comes from a restaurant family. Even as a child, Brian knew that he wanted to own the greatest breakfast place in La Habra. In 1959, with the encouragement of his parents, little Brian opened a corner coffee stand. While all the other kids were battling it out for territory and market share in the highly competitive lemonade stand industry, little Brian stood alone with his coffee - and prospered.

Demand for coffee increased, and customers wanted more. They wanted eggs with their coffee. This put a strain on Little Brian's capitalization and coffee stand infrastructure. By the late 1960's Brian was struggling to make all the coffee that his customers demanded. He was going to need some help if he was ever going to realize his dream of having the GREATEST breakfast in town.
Fate struck in the form of Arthur, a Rhode Island Red rooster with a Harvard MBA. The two meet at the famed Woodstock Music festival.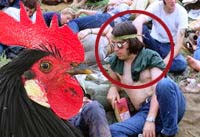 They quickly discovered that they shared an interest in a good morning wake up and bacon. It wasn't long after that Brian added bacon to the repertoire of the coffee stand and Arthur joined Brian in La Habra to help expand the business.
Arthur quickly established himself as the business brains of the outfit, which allowed Brian to focus on developing a top quality menu. Their first move at expanding was to hire a team of chickens and waitresses. It wasn't long before the crowds attracted by the chickens and waitresses overran Brian's original coffee stand. Everything eventually got sorted out with the police.

In 1984, Brian and Arthur broke ground on the new Arthur's Coffee Shop on the site of the original coffee stand at the corner of Harbor and La Habra Boulevard. The new Arthur's quickly established itself as having THE GREATEST breakfast in La Habra, largely as a result of Brian's insistence on using only top quality fresh ingredients. Unlike many other restaurants, Arthur's makes much of what they sell in-house, fresh daily. You're getting real homemade meals, not something from a mix or pre-packaged. You can taste the difference. That is why Arthur's has developed such a loyal following over the years, and Brian's dream came true.